SEPTIC REPLACMENT & UPGRADES, PUMPING, SEPTIC SYSTEM REPAIR AND MAINTENANCE SERVICES
Owning your own onsite wastewater system, you need a service provider that is pro-active and not just reactive when it comes to your family's health and lifestyle. Helping you protect your investment in your equipment and drain field is a top priority for us. We offer the following services for our customers and Smilies Sewer is Licensed, Bonded, and Insured.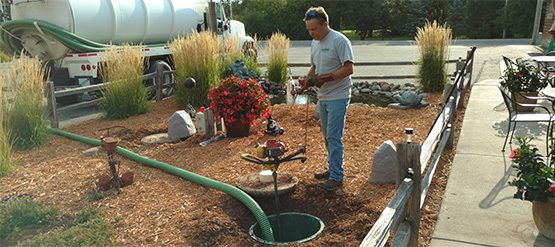 According to the University of Minnesota, Twin Cities, it is recommended that most homeowners have their septic tank pumped every 2-3 years. However, this frequency is determined by many factors including size of tank, usage, garbage disposal use, and other factors. Some homeowners should have their tanks checked annually to see if a tank cleaning is necessary.
Older systems should be serviced more often to ensure there are no underlying problems.
Normal everyday household water usage will fill the tanks in a short period of time. The purpose of the septic tank is to provide treatment of the waste water from washing machines, dishwashers, toilets, etc. Once filled the tank then drains into the drain fields.
The alarm signals that your effluent pump is not working properly. Make sure the circuit breaker is in the on position as there may also be a loss of electricity. If this does not resolve the problem quickly, call Smilie's for service.
Yes, roots will seek out water and this will draw them to grow towards your septic tank. They can get into cracks and cause them to become larger or eventually clogged. Keep any plants with deep roots away from the location of your septic system.
A Smilie's Sewer Service representative will meet with you to discuss any concerns, questions, and maintenance schedules. We will help you to understand your system, and get the right service for what you need.
Smilie's Sewer Service sends out reminders to let you know exactly when your system is due for service. If you are not currently in our database, we can utilize county/city records to help determine your last service date.
Extreme cold and lack of snow cover may lead to a septic system freezing. Keep foot traffic and snowmobiles away from the septic system area. An extra activity can "push" the frost deeper into the ground, allowing it to reach your sewer lines or septic tank, causing it to freeze. Another cause of freezing may be limited to low use of your septic system. Continue to use your system normally, or contact us for ideas if you are going to be gone for an extended period of time during the winter.
SMILIE'S SMILES
What our customers are saying about us.